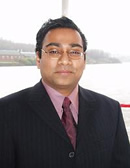 Mr Vincent Gnanapragasam
---
---
Websites
---
Graduate Students
Mr Vincent Gnanapragasam is pleased to consider applications from prospective graduate students.
---
Research Interests
I am currently a University Lecturer and Consultant Urologist at the University of Cambridge and Addenbrookes Hospital with a special interest in primary non-metastatic prostate cancer. In addition, I am also the Lead for the Academic Urology Group in the Department of Surgery and responsible for the recruitment and training of academic trainees in urology in Cambridge; Head of the Cambridge Urological Bio-repository, which has a very active programme of recruitment of patients with urological malignancies for collection of biological fluids and tissue (paraffin and frozen) for translational research and biomarker discovery; Research Programme Lead for surgical and non-cancer studies in the Cambridge Cancer Trials Centre; and Co-lead the Urological Malignancies theme in the Cambridge Cancer Centre.
My research spans the spectrum from basic laboratory sciences to clinical research with a strong focus on the link between the laboratory and the clinic:
In the laboratory I have explored the role of growth factor signalling in prostate cancer and the critical role of signal regulators in modulating the response to tyrosine kinase inhibitor based therapies.
My translational research has focused on the use of predictive biomarkers for therapy-specific outcomes and exploiting archival formalin fixed tissue for gene profiling with well-annotated longitudinal cohorts. This has led to availability in Cambridge of a multi-treatment cohort with tissue acquired at diagnosis and with up to 10 years follow-up.
I have established investigator-led translational research programmes, including the CHIRRP and DMAPS studies, which have demonstrated the use of imaging to guide therapy response and surgical approaches.
Epidemiological studies have also investigated and demonstrated changing patterns of disease presentation, treatment and outcomes in UK cohorts.
More recently I have focused on improving the early detection of prostate cancer and developing patient tailored therapy.
Key research themes include the design and evaluation of a novel device 'CAMPROBE' for safer out-patient prostate biopsies, exploring the combinatorial use of serological and imaging markers for cancer detection and designing improved risk stratification schema for primary prostate cancer.
In collaboration with colleagues in oncology and radiology I am developing a window trial program exploiting novel neo-adjuvant therapies to improve outcomes from primary prostate cancer therapy (CANCAP and TAPS).
---
Publications
Pubmed journal articles -

pubmed
Key publications
The evolutionary history of lethal metastatic prostate cancer. Gundem et al. ICGC Prostate Group, Nature (2015) Apr 16;520(7547):353-7. 
Trends and outcome from radical therapy for primary non-metastatic prostate cancer in a UK population. DA Greenberg, A Lophtananon, K Wright,K Muir and VJ Gnanapragasam Plos One (2015)Mar 5;10(3):e0119494.
Tracking the origins and drivers of subclonal metastatic expansion in prostate cancer. M Hong et al  Nature Communications (2015) - In Press
Active Surveillance of prostate cancer: A questionnaire survey of urologists, clinical oncologists and urology nurse specialists across three cancer networks in the UK Y Philippou, VJ Gnanapragasam BMC Urology (2015) - In press 
Comparative oncological and toxicity outcomes of salvage radical prostatectomy versus non-surgical therapies for radio-recurrent prostate cancer: A meta-regression analysis. Y Philippou,  RA Parker, D Volanisc, VJ Gnanapragasam European Urology Focus (2015) - In press
Integration of copy number and transcriptomics improves risk stratification in prostate cancer. H Ross-Adams et al E Bio Medicine (2015) - In Press
The ADC ratio of tumor to normal prostate as a method for quantifying diffusion weighted    imaging of the prostate. T Barrett, AN Priest, EM Lawrence, DA Goldman, AY Warren, VJ Gnanapragasam, E Sala, A Gallagher Am J Roentgenol (2015) - In Press
Primary radical therapy selection in high-risk non-metastatic prostate cancer. VJ Gnanapragasam, I Syndikus, H Kynaston and T Johnstone Clinical Oncology (2015) - In press
Incidence of needle tract seeding after prostate biopsy for suspected cancer. D Volanis, DE Neal, VJ Gnanapragasam BJU International (2015) - In press
Analysis of the genetic phylogeny of multifocal prostate cancer identifies multiple independent clonal expansions in neoplastic and morphologically normal prostate tissue. Cooper CS et al. ICGC Prostate Group, Nat Genet. (2015) Mar 2. doi: 10.1038/ng.3221. [Epub ahead of print]
Multi-transcript profiling in diagnostic archival needle biopsies to investigate predictive biomarker in non-surgical therapy for prostate cancer.N Kachroo, AY Warren and VJ Gnanapragasam BMC Cancer (2014) Sep 16;14:673
Molecular markers to guide primary radical treatment selection in localised prostate cancer. VJ Gnanapragasam. Expert Reviews in Molecular Diagnostics (2014) Sep;14(7):871-81
Evolution of repeat prostate biopsy strategies incorporating transperineal and MRI-TRUS fusion techniques. Kuru TH, Saeb-Parsy K, Cantiani A, Frey J, Lombardo R, Serrao E, Gaziev G, Koo B, Roethke M, Gnanapragasam V, Warren A, Doble A, Hadaschik B, Kastner C. World J Urol (2014) Aug;32(4):945-50
Prostate cancer performance characteristics of combined T(2)W and DW-MRI scoring in the setting of template transperineal re-biopsy using MR-TRUS fusion.Lawrence EM, Tang SY,  Barrett T, Koo B, Goldman DA, Warren AY, Axell RG, Doble A, Gallagher FA, Gnanapragasam VJ, Kastner C, Sala E. Eur Radiol. (2014) Jul;24(7):1497-505
Pre-operative 3-tesla diffusion weighted MRI for the qualitative and quantitative assessment of  extracapsular extension in patients with intermediate or high-risk prostate cancer. EM. Lawrence, FA Gallagher, T Barrett, A Warren, AN Priest, E Sala, VJ Gnanapragasam. Am J Roentology (2014) Sep;203(3):W280-6
Changing presentation of prostate cancer in a UK population: 10 year trends in risk profiles in the East of England. DA Greenberg, K Wright, A Lophatanon, K Muir, VJ Gnanapragasam. British Journal of Cancer (2013) Oct 15;109(8):2115-20
Repeat prostate biopsy strategies after initial negative biopsy: meta-regression comparing cancer detection of transperineal, transrectal saturation and MRI guided biopsy.­­ AW Nelson, RC Harvey, RA Parker, C Kastner, A Doble, VJ Gnanapragasam PLOS One(2013) 8(2):e57480. doi: 10.1371/journal.pone.0057480
The role of treatment modality on the utility of predictive tissue biomarkers in clinical prostate cancer-a systematic review. N Kachroo, VJ Gnanapragasam Journal of Cancer Research and Clinical Oncology (2013) Jan;139(1):1-24.
Evidence for down-regulation of the negative regulator SPRED2 in clinical prostate cancer. N Kachroo, T Valencia, A Warren, VJ Gnanapragasam. British Journal of Cancer (2013) Feb 19;108(3):597-601.
Risk profiles of prostate cancers identified from UK primary care using national guidelines. H Serag, S Banerjee, K S Parsy, S Irving, K White, S Stearn, A Doble, VJ Gnanapragasam. British Journal of Cancer (2012) Jan 31;106(3):436-9