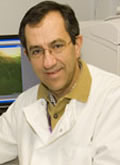 Professor Carlos Caldas (Department of Oncology & Cancer Research UK Cambridge Institute) and Dr Suet-Feung Chin (Cancer Research UK Cambridge Institute) from the University of Cambridge, UK collaborated with with Professor Pathmanathan Rajadurai and Professor Dato' Dr Yip Cheng Har from Subang Jaya Medical Centre, Cancer Research Malaysia to build the largest genetic and genomic database of Asian breast cancers to date, published in Nature Communications.
Previously, the majority of characterised genomes used in breast cancer research were from Caucasian women, less than 5% came from Asian women. In this study, the genomic sequences of 560 breast cancer tumour samples were analysed and it was discovered that the aggressive sub-type that expresses the HER2 protein is more common in Asian women compared to Caucasians
This study also showed that the TP53 gene – often called the "guardian of the genome" because it protects normal cells from becoming cancer cells – is more commonly altered in Asian breast cancers compared with that of Caucasians.
The researchers noted that this genomics map has enabled new thinking about the treatment of breast cancers in Asian patients. For example, a new clinical trial to test immunotherapy in Asian breast cancer patients has already started in July 2020, led by Cancer Research Malaysia, in partnership with oncologists at University Malaya and National University Hospital Singapore.

The team at Cambridge was led by Dr Suet-Feung Chin and Professor Carlos Caldas, based at the Cancer Research UK Cambridge Institute. Professor Caldas said: "We were delighted to participate in this important study, which I called the Asian METABRIC, since it parallels our efforts to extensively characterize breast cancer and stratify tumours into one of the 11 Integrative Clusters."
The study was supported by research grants and charitable funding from the UK Medical Research Council via the Newton-Ungku Omar Fund, Scientex Foundation, Yayasan Sime Darby, Yayasan PETRONAS , Cancer Research UK and Estee Lauder Group of Companies.