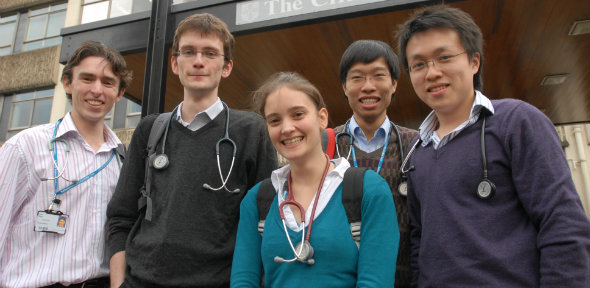 We offer postgraduate clinical training programmes in Clinical and Medical Oncology.
The NHS Health Education East of England (HEEoE) is the Local Education and Training Board that covers Bedfordshire, Hertfordshire, Cambridgeshire and Peterborough, Norfolk, Suffolk and Essex. HEEoE is a subcommittee of Health Education England and is responsible for ensuring the quality of education, training and development in the east of England and ensures that we provide excellent training programmes.
Our location on the Cambridge Biomedical Research Campus ensures that we can provide cutting edge cancer services and attract world renowned clinicians. We  have state-of-the-art clinical equipment and facilities, such as the HioArt TomoTherapy System, which targets tumours with a high degree of precision, minimising radiation to surrounding healthy tissue; the da Vinci Surgical System, a machine used in robotic surgery and a specialised Oncology centre for patient services.
If you require further information and advice about applying for training in Clinical and Medical Oncology, please see below:
Specialty Training Programme Director in Clinical Oncology
Dr Gail Horan
Cambridge University Hospitals NHS Foundation Trust
Email: gail.horan@addenbrookes.nhs.ukProgramme information: https://heeoe.hee.nhs.uk/clinical_oncology
Specialty Training Programme Director in Medical Oncology
Dr Danish Mahzar
Cambridge University Hospitals NHS Foundation Trust
Email: danish.mahzar@addenbrookes.nhs.ukProgramme information: https://heeoe.hee.nhs.uk/medical_oncology
Head of School & Associate Postgraduate Dean
Dr Ian Barton
School of Medicine
East of England Multi-Professional Deanery
Email: i.barton@nhs.net