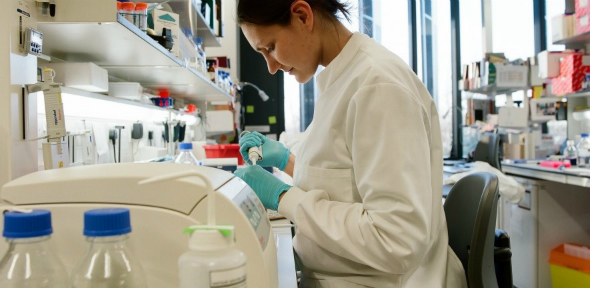 The Department of Oncology is at the forefront of an ever-expanding field of cancer research.
Our main focus is on translating basic scientific findings into clinical applications for improving prevention, diagnosis and treatment of cancer.
The research interests of the Department are funded mainly by Cancer Research UK, the Medical Research Council and the National Institute of Health Research (NIHR) Cambridge Biomedical Research Centre and can be divided into 3 broad disciplines:
Basic Laboratory Research
Translational Research
Clinical Research
Our Research Leaders (many of whom are also practising clinicians), direct multi-disciplinary teams, which ensures strong links between our laboratory science and its clinical application for the benefit of patients.
We also enjoy many successful research collaborations with other University Departments, Research Institutes and pharmaceutical companies based in and around Cambridge.
The strength of our research was assessed and reported in the Research Excellence Framework 2008 and Research Assessment Exercise 2014; for details see Research Impact.