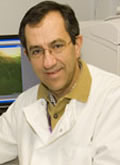 Researchers from the Cancer Research UK Cambridge Institute and Cancer Research UK Cambridge Centre, led by Professor Carlos Caldas (CRUK CI, Oncology), have discovered that advanced breast cancer probably spreads in waves rather than continuously.
The team collected 181 tumours during post mortem examinations on 10 women who had died from advanced breast cancer. In these patients, the tumour had not responded to treatment and had subsequently spread to other parts of the body.
 
Carlos Caldas said: "We were lucky to have a rare and first in-depth look at these advanced cancers, and then we realised that what we thought we knew might be wrong. Breast cancer doesn't appear to spread continuously with the initial tumour shedding cells one by one, but it spreads in waves."
This study, published in Cell Reports, is the largest of its kind, and provides insights that could help researchers develop new ways to monitor, treat and control the spread of cancer. was 
For more information, please see the CRUK Cambridge Centre website.