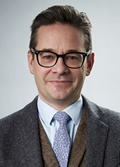 Cancer Research UK has awarded Professor Richard Gilbertson (Oncology, CRUK Cambridge Centre & Cancer Research UK Cambridge Institute) £5.86 million to lead an international team focussing on gaining a better understanding of the biology of children's brain tumours, with the future aim of developing much needed new treatments.
 
The team of researchers, based in Cambridge, London, the United States and Canada, will study each individual cell in the healthy, developing brain, 'mapping' their biological properties. By comparing these developmental maps of healthy cells with those from the most common types of children's brain tumours, the researchers should gain new insights into how brain tumours develop and grow.
 
Professor Gilbertson said: "Our approach is to develop a new generation of treatments that grow out of an understanding of the biology of the developing brain and childhood brain tumours. We hope that this approach will unleash a new set of targets for children's brain tumours that will supplement current treatments, such as chemotherapy and radiotherapy."
 
For more information, please see the CRUK Cambridge Centre website.