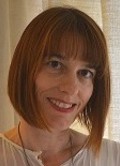 Congratulations to Charlotte Coles (Oncology and CRUK Cambridge Centre) on her appointment as Deputy Head of the Department of Oncology. Charlotte is a National Institute of Health Research (NIHR) Research Professor and Reader in Breast Radiation Oncology.
 
Her research aims to provide breast cancer patients with the best chance of cure with least side effects by personalising radiation techniques based on risk of recurrence. Charlotte said: "I'm delighted to undertake this new role and hope to further strengthen links between basic and clinical/translational research".
 
For more information about Charlotte's research please click here.