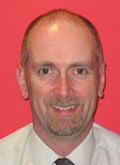 The effectiveness of current treatments for melanoma, the deadliest form of skin cancer, could be improved by using approaches that wipe out the 'survival system' of cancer cells according to a collaborative study published in Nature Communications.
Professor Duncan Jodrell, Department of Oncology, and fellow Cancer Research UK researchers based at the Babraham Institute, AstraZeneca and the Cancer Research UK Cambridge Institute, have demonstrated an approach, used in parallel with existing treatments, which knocks out one of melanoma cells' survival pathways and is effective at triggering tumour cell death and delaying treatment resistance.
The researchers suggest this approach may also help to tackle late stage cancers even after they have become resistant to existing treatments. Duncan Jodrell said: "This work highlights the importance of performing collaborative research like this, as it could lead to new ways to tackle cancers, particularly those that are hard to treat. Our work also shows the value of scientists in basic science labs working closely with drug development specialists and industry scientists, which is fundamental if we want to find better treatments for people affected by cancer."
For more information on this story, please click here.