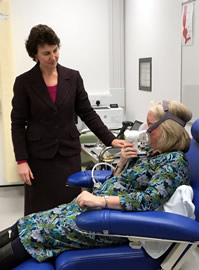 Professor Rebecca Fitzgerald, Department of Oncology, MRC Cancer Unit and co-lead of the CRUK Cambridge Centre Early Detection Programme is leading a new clinical trial at Addenbrooke's Hospital to develop a breath test that could indicate the presence of multiple cancer types at an early stage. This is the first test of its kind and has huge potential to provide a non-invasive method to find cancer early, when treatment is more likely to be effective.
Cancer Research UK Cambridge Centre https://crukcambridgecentre.org.uk/  is running the PAN Cancer trial for Early Detection of Cancer in Breath in collaboration with Owlstone Medical to test their Breath Biopsy® technology.
 
More information click here.