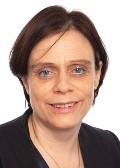 Congratulations to Professor Anna Philpott who has received the '2018 Anne McLaren Award for Outstanding Women in Developmental Biology' from the International Society of Differentiation (ISD). Professor Philpott accepted her award at the CamBio2018 Conference, a major biennial conference organised jointly by the ISD and the Australian and New Zealand Society for Cell and Developmental Biology, in Sydney at the end of September 2018, during which she presented the prize plenary lecture.
This prestigious award is named in honour of the renowned geneticist and reproductive biologist, Professor Dame Anne Laura Dorinthea McLaren, a highly respected scientist, scientific communicator and adviser on ethical policy, who was also admired as a role model and mentor to young scientists.  
This award is presented to women in recognition of both their outstanding scientific contribution to the advancement of the field of cell and developmental biology, and for being an inspirational role model for upcoming young scientists.
Professor Philpott graduated from the University of Cambridge in 1988, with a degree in Natural Sciences. She then went on to study for a molecular cell biology-based PhD, during which she developed her interest in how cells of the embryo know it is time to stop dividing and undergo the complex processes of specialisation. More recently, Anna has explored how her research in cell development may be used to help advance the understanding of the development of the childhood cancer neuroblastoma, a cancer that forms in certain types of nerve tissue. In acknowledgement of her contribution to this field of research, Anna was recently awarded a five-year Programme Grant from Cancer Research UK to fund further investigation of how and why neuroblastoma develops in children, focusing on identifying exactly which biological signals cause neuroblastoma to develop, with the aim of discovering how to switch these signals off.  She has also been awarded a five-year Wellcome Trust Investigator Award to study how cells choose and maintain their fate during embryogenesis.
Anna now runs her own research laboratory within the Department of Oncology and Cambridge Stem Cell Institute, is Deputy Head of the Department, co-leads the CRUK Cambridge Centre Graduate Training Programme, and is a full-time working mother of two teenage children; she is also an advocate of encouraging and championing women in science and has been interviewed by netmums about how she balances her research career with family life.